Huawei Mate 30 Pro Full Review With Huawei's New System
Is Huawei Mate 30 Pro is a very an excellent phone? although Huawei has suffered many problems as a result of President Trump's decision to stop all American companies dealing with Huawei and despite the lack of a final solution to this problem Huawei Mate 30 Pro comes with all the features you'd want from a handset in 2019, but it doesn't sport Google's core services, such as the Google Play Store, and that severely hampers what it can do.
Starting off, the Make 30 Pro is one of the most premium-feeling smartphones I have used in the last year, and yes this includes the iPhone and Samsung Galaxy. The clean, lines, and crisp waterfall display make it stunning to look And the built quality makes it feel fantastic in the hand. Even without turning the phone on, the attention to detail can't be overlooked.
But Huawei continues to manufacture its distinctive phones, which come with new technologies and technology always which is what we will recognize by explaining the specifications of the device.
---
Design :-
The phone comes with a very suitable 198g dimension and the phone is completely surrounded by a Gorilla Glass 6 glass protection layer with an aluminum frame and supports the phone with a single nano or two-chip connection chip and you can install an external card (Micro SD) in place of the second chip.
Looking to the back of the Mate 30 Pro you will find the new round camera array. This striking new layout is reminiscent of a point and shoot camera, and makes for a great look should you be nostalgic for the days of the small digital cameras we all used to carry around Beyond the camera area, the phone feels sleek, stylish, and minimalistic. It offers enough new while still giving a familiar feel making it easy to pick up, use, and get comfortable with.
---
Display :-
The 6.53-inch Mate 30 Pro screen comes with a 2400×1176 resolution and a 409-pixel pixel density per inch and comes with a screen of 18.5:9 and the screen occupies most of the front interface by 94.1% of the total front interface of the device and Huawei screen company described it as an endless screen.
The screen on the Mate 30 Pro feels bright sharp and clear. The waterfall screen, while stunning to look at, can be a bit tedious to type on, and does take a bit of getting used too But once you do, this is a phone that will turn heads. It looks great, and watching movies on the screen is a pleasure.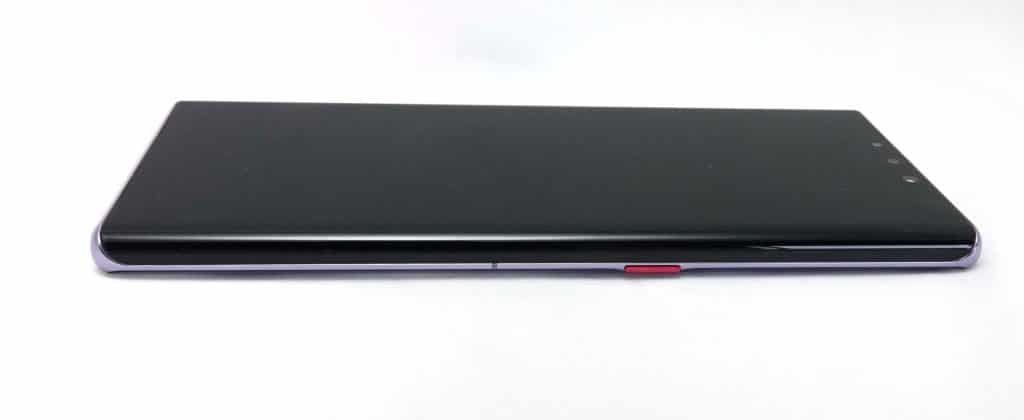 Security-wise, the Mate 30 Pro has all the features we have come to expect from a flagship phone of this price range You will find the typical, relatively slow in-screen fingerprint sensor that works. It is accurate but far slower than dedicated buttons The laser-based face unlocks, on the other hand, worked wonders and unlocked the phone whenever I would reach for it But as always, if you are worried about security, a long passcode will always be your best option.
---
Performance :-
The phone supports Android 10 with Huawei's famous Interface EMUI The phone comes with Huawei Kirin 990's latest processor with an excellent architecture of 7 nm where the processor has achieved a significant improvement in overall performance and energy efficiency.
The Kirin 990 7nm SoC felt blazing fast throughout our tests. From day to day operations like web browsing and emails, to more complex tasks like image editing or gaming, I never saw the Mate 30 Pro stutter or even slow down.
Experience high speed, low response time, long usage time and powerful image processing capability for Huawei Mate 30 Pro The new design of the NPU, which includes a large core as well as a smaller core, offers great development with AI capabilities.
---
Rear Camera :-
It was meant to talk about the camera at the end of the subject and because of the advantages, these cameras offer where those cameras on the famous Site Dxomark have achieved to evaluate cameras on smartphones On the camera side, Huawei has chosen to throw hardware at the problem, giving some of the best camera features on modern smartphones.
While there is something to be said by tackling the camera problem through software — and I personally feel the camera app needs work — this solution feels fun, and easy to use, and can only get better as the software evolves.
---
Main Camera :-
The phone comes with a 40-megapixel basic camera with a wide f/1.6 aperture that allows you to record video in low light conditions with very slow motion features and time-shooting of video at an ultra-wide angle.
Huawei Mate 30 Pro Camera
Prev
1 of 10
Next
The main 40MP sensor, as with the P30 Pro, using a RYB pixel setup that swaps out the green for yellow pixels allowing more light, combined with the f/1.6 lens and OIS and raw horsepower, the Mate 30 Pro is able to take pictures in extreme darkness, while still making it look good, and be a photo worthy of the gram.
---
Cinema camera :-
This 40-megapixel camera also comes with a wide f/1.8 aperture and comes with a Super Sensing lens and is specially designed to provide cinematography mode and give you more details day and night.
---
Zoom camera :-
you will be even more impressed with how the Mate 30 Pro tackles photography. Leaving behind the periscope zoom lens, the Mate 30 Pro now offers a 40MP wide-angle camera that stands as the default lens on the phone. While this does come at a cost of only having a 3X zoom, in this critic's opinion, it is a fair and sensible tradeoff.
---
Depth camera :-
It's a 3D depth sensor camera that adds professional effects to your photos and videos Overall, the new wide-angle lens felt more versatile than past iterations of the Mate lineup. Images appeared brighter, more full of detail, and just generally more pleasing to look at.
While the wide-angle is not as extreme as can be seen on the S20 Ultra, it still manages to capture enough of a scene to make it a handy tool when you want a bit more of a view.
---
Selfie Camera :-
Looking at the front of the phone, and you will find a 32MP f/2.0 fixed-focus lens, with a Time of Flight (ToF) sensor that offers a great addition to a solidly packed camera package.
Photos look good, and for anyone who loves taking selfies, the camera offers enough tricks up its sleeve to make even the most boring scene look good, ready to post to social media.
---
Battery life :-
The Dead 30 Pro comes with an excellent battery with a capacity of 4500 mAh but with fast charging from Huawei 40W the charging process is no longer a troublesome problem where you can enjoy the fast charging cable or without it, Because the phone supports fast wireless charging by 27W in addition to supporting the wireless reverse charging, this feature first appeared in the same category from Huawei, the category of the dead.
Thanks to Huawei's fast charging, it is not a big deal to give the Mate 30 Pro a top-up. Their implication of fast charging is still some of the best on the market, giving the phone a total charge in around an hour, with it being able to go from zero to 39% in about 15 minutes There is also Qi charging should you want to go down that route Overall, if you are someone worried about the battery on your phone, the Mate 30 Pro did not disappoint.
Software :-
EMUI 10
Android 10
No Google apps
8GB Ram
AppGallery :-
Huawei's answer to this issue is AppGallery, and honestly, it works fine. For the most part, it has most apps you would need, and any it does not have you can find on the official websites without too much trouble. But, as Android is made by Google The Google experience is one of the main reasons people turn to this OS. Google Maps, Gmail, hell even Google Docs, these are apps people are invested in with time and use, so leaving them behind is not easy.
But, having said that, AppGallery does an admirable job filling those gaps, offering up games, the usual apps you expect, and some you may not. It can take some getting used too, as with the phone, this was originally made in China, for a Chinese market, so there are many apps here that most people won't want to use But at the end of the day, it works, and if you can live without, or don't mind getting your hands dirty, it is notable, but an otherwise minor issue on an otherwise fantastic device.
While Google and Android normally walk hand in hand, world events have forced Huawei's hand, and the Mate 30 Pro in its present form is the result. The phone is one of the best Android smartphones currently available, and offers an uncompromising design and feel making it stunning to look at and use While it is not for everyone, if you can live outside the Google ecosystem, the Mate 30 Pro is simply put an excellent offering, that could only be made better.
---
Huawei Mate 30 Pro Pros :-
Excellently curved screen with relatively non-existent edges other than the large noch shape.
The screen produces saturated colors with very clear viewing angles while supporting it to HDR.
Battery life is more than excellent in addition to its support for fast charging strongly.
Cameras offer a distinctive experience, especially the wide camera produces a lot of details, whether at night or during the day.
The processor is able to play anything, no matter what, the newest and most powerful processor is currently after Apple's A13 Bionic processor.
---
Huawei Mate 30 Pro Cons :-
The price of the phone is high even without its support for Google services.
External memory nano-memory is very expensive but you won't need it in the case of 256 GB storage space.
The phone lacks support for the 3.5mm port for the earphones.
Lacks stereo external speakers that produce a better audio experience than mono speakers.
The screen doesn't come with high frequency to improve the gaming and video experience
---
Final Thoughts Should You Buy it or Not?
The Mate 30 Pro is a Good Choice. Huawei did everything right: the camera is solid, the handset feels and looks premium and the battery is excellent, but without Google Play Services the device won't be worth it for most users
While the Mate 30 Pro is a great premium phone, if you're not a Huawei enthusiast or someone who's crazy about Huawei's tech, you won't be in tune with the experience of this phone.
---
What's in the box?
40W charger
USB Type-C cable
pair of earphones
Huawei Mate 30 Pro
---
Price :-
Huawei Mate 30 Pro comes with a relatively convenient price compared to gives you features and advanced technologies where the phone comes at a price of 840 dollars.
If you liked our Review please Share it and also let me know in the comments if something needs to be improved! Thank you